Review: The Shepherd's Hut
books ·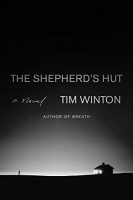 Jaxie Claxton lives a miserable life in rural Australia, stuck with a savage father he hates. Then one day a violent accident leaves him with no choice but to pack what he can carry and strike out on foot as a fugitive.
Walking across barren western Australia with a rifle and a water jug, he eventually runs into a fellow outcast living in a shepherd's hut. In this remote and deadly landscape Claxton forms an uncomfortable bond with this man, who has his own secrets to keep and on whom he becomes dependent.
The Shepherd's Hut (Farrar, Straus and Giroux, digital galley) by Tim Winton is a short and crisp story of survival, friendship and the search for peace in a brutal world. Winton's masterful use of language, peppered with Australian colloquialisms, made this novel a pleasure to read.