Review: The Deserter
books ·

Nelson DeMille is back with another thriller, sharing writing duties with his son, Alex DeMille. In The Deserter, Army criminal investigators Scott Brodie and Maggie Taylor are trying to track down elite Delta Force officer Captain Kyle Mercer, who walked way from his post in Afghanistan.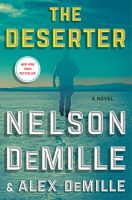 The trail leads to Venezuela and Brodie and Taylor head there in pursuit of the dangerous officer. The duo are in dangerous territory as Venezuelan society unravels around them. But the investigators rely on their wit and some rule breaking to stay on Mercer's trail.
The Deserter (Simon & Schuster) is a typical DeMille thriller, full of caustic and satirical humor and dangerous setups that are always just around the corner. While it doesn't break any new ground, it will be popular with fans of the writer.