Review: She Lies in Wait
books ·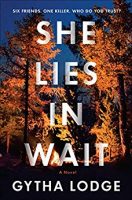 Thirty years after going missing while on a camping trip with five other teenagers, a young girl's body is discovered buried with a drug cache. What was a decades-old missing persons case has turned into a murder investigation in Gytha Lodge's She Lies in Wait.
The story is told in alternating timelines, following the current investigation and revisiting the events that happened to each of the 6 teenagers during the camping trip. The problem with alternating timelines is they often disrupt continuity in narratives and it does so here. Jumping back and forth in time between so many characters made it hard for the story to gain any momentum.
Unfortunately, besides the victim in She Lies in Wait (digital galley, Random House), it was difficult to become invested in any one character and the resolution to the mystery, when it came, felt anticlimactic.