Review: Recursion
books ·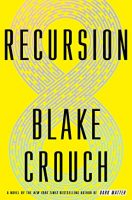 New York City police officer Barry Sutton gets wrapped up in a time-travel adventure while investigating the mysterious False Memory Syndrome, in Blake Crouch's Recursion. Along the way he crosses paths with neuroscientist Helena Smith, who discovered the secret held in people's memories and realizes the danger she has unleashed.
There is a sense of impending doom as reality as everyone knows it begins to unravel and every effort to right the course of history introduces new problems. I don't want to say more about the plot for fear of revealing a twist, but this is a fast-pace thriller that infuses fresh ideas into the time-travel genre.
Crouch has already written a number of successful thrillers, including Dark Matter and the Wayward Pines series, but this is his best novel yet. Recursion (digital galley, Crown Publishing Group) deals nicely with the many paradoxes that inevitably crop up with time travel and Crouch wraps up everything neatly at the end.