Review: Number One Chinese Restaurant
books ·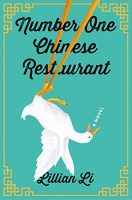 The characters of Number One Chinese Restaurant all inhabit a planet orbiting the Beijing Duck House. A fire at the suburban Washington, D.C restaurant upends the equilibrium and tensions between family and coworkers come to the surface.
At the center of the novel by Lillian LI are two brothers with different philosophies of life and what it means to be restaurateurs. Thrown into the mix are long-serving restaurant staff and a mobster "uncle" who seems to be pulling strings behind the scenes.
Unfortunately Number One Chinese Restaurant (Digital galley, Henry Holt & Co.) is a book dominated by subplots. The family tensions make for interesting stories, but without a gripping, dominant plot line it was unfortunately not a compelling read.