Review: An Orchestra of Minorities
books ·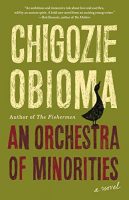 Nigerian poultry farmer Chinonso risks his livelihood and undertakes an imprudent journey in a bid to impress the family of the woman he loves in An Orchestra of Minorities by Chigozie Obioma.
Young Chinonso's life heads in a new and seemingly wonderful direction after a chance encounter one night with Ndali, an educated young woman from an influential family. Chinonso and Ndali quickly fall in love, but he believes he must return to school in order to become her social equal. After selling everything he owns to go to college in Cyprus, Chinonso immediately falls prey to a con-man and everything he had planned comes undone.
Narrated by Chinonso's chi, or guardian spirit, An Orchestra of Minorities (digital galley, Little, Brown and Company) is an ambitious and spiritual tale that traces Chinonso's journey from elation to bitterness and finally something close to surrender as he undertakes the long journey to return to Nigeria and Ndali.