Friday coffee notes
·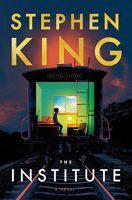 This is a short review of one of King's best recent novels, The Institute. The book explores relationships among children with "special talents" held and abused at a secret installation. This is a good-vs-evil story that's hard to put down.
Brittany Howard is a pure joy to watch perform. Her current tour ends in November and I hope she plans to do festivals next year so I have a chance to see her again live. Until then, there's an NPR Tiny Desk Concert from this week to hold us over.
I'm working on a longer review of Janis: Her Life and Music, which will be released October 22. But for now it's enough to say go ahead and pre-order a copy. It's a well-researched and well-written page turner by Holly George-Warren.
Listen to Janis Joplin before Big Brother & the Holding Company in the 1964 bootleg "Typewriter Tape" recording. Her talent shows as she sings with guitarist Jorma Kaukonen, while his wife types a letter in the background.
It amazes me that there is a subway station in the basement of the Old State House in Boston. It's not a big building and it's odd to walk out of the station and see where you are. You can see it here on Google Street View. Here it is the 1906 Old State House with the subway, or East Boston Tunnel, entrance at the back left of the building. And before the subway in the early 1890s, when the basement was occupied by a telegraph office.